Posted On July 15th, 2015
Re-posted from Men's Journal, 2015
You probably already know about the unmatched fly fishing, rock climbing, and mountain biking in Montana. But Big Sky Country is also one of the top craft beer states in America, ranking ahead of even Colorado in breweries per capita. The brewers and outdoors enthusiasts here are cut from the same cloth. So with the help of host Zane Lamprey, we sought them out, finding some of the best adventures — and brews — throughout the state.
Posted On June 11th, 2015
Re-posted from News Talk KGVO Missoula, on June 10th, 2015
The results are in for the North American Beer Awards and a Montana brewery has beaten big names like Anheuser-Busch and MillerCoors in producing the best American-Style Lager.
Assistant Brewer Eric Rasmussen from the Montana Brewing Company in Billings says he was happily surprised to see the Prohibition Pilsner come out on top.
"To be honest, Prohibition Pilsner getting the gold was a huge surprise and, not to brag, but second place was Coors Original, so anytime you can take down the big boys at their own game… it's pretty fun stuff," Rasmussen said.
Montana Brewing Company was just one of 17 Montana breweries that came home with medals, many of them gold.
"Montana doesn't have a lot of people, but the people here definitely appreciate a beer culture and I think the breweries are reflecting that," Rasmussen said. "[Montana Brewing Company] walked away with three medals, and then Montana as a state won 31 medals. On a per capita basis we were definitely the top state, but as far as the total medal breakdown goes I think we are either number one or two."
Montana is certainly on the map for good beer. Below is the list of Montana winners for 2015:
Angry Hanks Microbrewery in Billings won Silver in Scottish-Style Export for "Frost killer"
Bayern Brewery in Missoula won bronze in Helles Lager for "Montana Helles Lager"
Big Sky Brewing in Missoula won silver in Barrel Aged Strong Beer for "Barrel Aged Power Wagon"
Blackfoot River Brewing Co. in Helena won silver in the Lambic category for the "Blackfoot Helambic"
Bozeman Brewing Co. in Bozeman won Bronze in American Style Pale ale for "Watershed Pale Ale" and Silver in Robust Porter for "Plum Street Porter."
Canyon Creek Brewing in Billings won in three categories. It took gold in Dortmunder/Export for its "MinPln Pils", Gold in Scottish Style Heavy for "Copper," and Silver in Irish-Style Red Ale for "Rabbit Head Red."
Carter's Brewing in Billings took home Silver in Biere de Garde with "The Keeper 2015."
Draught Works in Missoula took home a bronze in the Cream Ale Category for "That's What She Said" and a bronze in the Ordinary Bitter Category for "Shadow Caster Amber Ale."
Flathead Lake Brewing Co. took home a Silver and a Bronze in the Flanders-Style Red or Brown Ale category for  "Barrel 14 Sour" and "Montucky Sour Brown" respectively.
Great Northern Brewing Co. out of Whitefish took home Bronze for American-Style Strong Ale for "Good Medicine Strong Red Ale."
Katabatic Brewing Co. in Livingston took home Gold in the American Style Amber Ale catagory for "Anabatic Amber."
KettleHouse Brewing Co. in Missoula won Silver in English-Style Summer Ale for "Fresh Bongwater," Silver in California Common for "KettleHouse Kommon," and Gold in Biere de Garde for "Biere de Garde."
Montana Brewing Co. won gold in the American-Style Standard or Premium Lager with "Prohibition Pilsner", Gold in Irish-Style Red Ale for "Hooligan's Irish Red Ale" and Silver in Oatmeal Stout for "Custer's Last Stout."
Philipsburg Brewing Company out of Philipsburg won Gold in the Light Ale category for "Otter Water Summer Pale Ale"
Red Lodge Ales Brewing Co. out of Red Lodge won Gold in Doppelbock for "Dos Goatees Doppelbock", Gold in Efeweizen for "Helio Hefeweizen", and Bronze in Altbier for "Glacier Ale."
Tamarack Brewing Company out of Lakeside won Gold in English-Style India Pale Ale for "Core Shot Copper," Gold in the Specialty/Experimental Beer category for "Raspberry PHunkenstein" and Bronze in English-Style Barely Wine for "I Remember My First Barley Wine…"
Uberbrew in Billings won Gold in Brown Porter for "Stand Down Brown Porter" and Silver in Dry Stout for "Uberstition CCS"
View the list of Winners by Category and Winners By Brewery posted by  North American Brewers.org. 
Posted On June 11th, 2015
Re-posted from Growler Fills, June 10th, 2015
Drink Local. It's a short, easy phrase that conjures up a variety of images. Most involve a pint of beer in a friendly taproom filled with smiles and friendly banter.
"Drink local" is an accepted virtue in the world of beer. An idea as readily embraced as an ice cream cone on a hot summer day.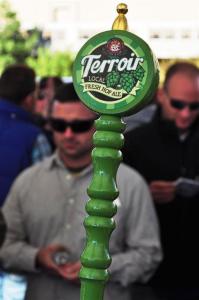 But why is drinking local something we seek out, even as some of the best beers from around the world can be found at our local bottle shops? And how local can it get?
"At a small, independent brewery, you can get a product that is vastly superior to the mass produced variety but that doesn't cost all that much more and was crafted by people you probably know," says Bill Hyland, Water Enhancement Specialist (a/k/a Head Brewer) forBozeman Brewing Co. in Bozeman, MT. "Small craft breweries are the ultimate mom and pop establishments. They are primarily concerned with quality and their main goal is to satisfy their own home markets."
But Hyland is quick to point out it is more than just a freshness issue. "There is also, I believe, a certain sense of pride and loyalty that a consumer has for their home town brew," explains Hyland. "I've seen this all over the country but not more so than here in Bozeman. Our locals seem to really love our beer and what we're about. Everyone who works here also has other connections in the community so in a lot of ways it's a really big extended family."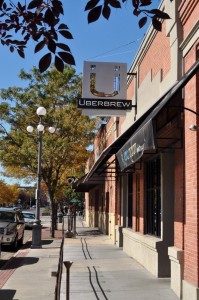 Those community connections are what drives Überbrew in Billings, MT at its local taproom and in its quest to enter new markets. Like many breweries, Überbrew contributes to charities and cultural experiences in the communities in which they sell beer. "We do not just send beer and expect it to sell," says Mark Hastings, co-owner and Head Brewer. "We have two full time sales representatives who spend the majority of their time building relationships within these communities. Without these local community ties we are just another beer."
Seth Swingley, co-owner of Mighty Mo Brewing Co. in Great Falls, MT, finds his customers seeking to "drink local" for the community connections as much as the ingredients. This is especially true in Montana, Swingley notes, where there is so much malt barley produced.
"Many consumers know someone who either grows or is involved in getting the malted barley to the local breweries," says Swingley. "The community connection does not stop there.  Many breweries are a community gathering spot, and often have charity nights, where proceeds from the beer sold are shared with local charities.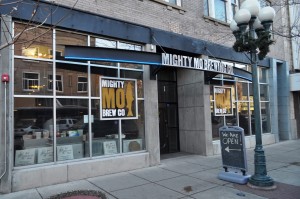 "Many of our customers never stepped foot in Mighty Mo's tap room until they attended a Raise-A-Pint night.  The people come in to support a cause, and fall in love with the beer and the community concept, and they come back again and again!"
Carl Spurgeon spent the past two years crisscrossing the state of Montana with fellow filmmaker Rob Truax documenting the local beer culture in the film Homebrewd. The two interviewed homebrewers, commercial brewers and historians to find out what drives the creation of beer.
"If there were a common theme it would be that everyone is doing this for the pure love of beer," says Spurgeon. "Commercial brewers are working harder than they would at other professions while earning less. Hobbyists are experimenting and helping one another break new ground on styles, quality, and beer education."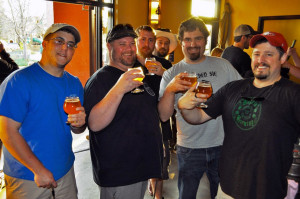 "When I hear the phrase 'drink local' it means drinking beer closest to its source," says Spurgeon. "That means closest to where it is brewed, closest to where the barley is produced, closest to where the hops are grown, absolutely as close to every source as possible. For us here in the Northwest, that is pretty easy in general. In Montana, with all of our breweries as well as our excellent water sources, world class barley and proximity to the greatest hops on earth, it's Heaven!"
Yet, while beer's most prominent ingredient by volume – water – is usually as local as it gets, brewers commonly tout the use of ingredients from decidedly not-local sources. European base and specialty malts are frequent additions. Southern Hemisphere hops like Galaxy and Nelson Sauvin have hit the American craft beer scene with a frenzy in recent years.
Überbrew's Hasting explains why using local products is not always the preferred choice. "The short answer is quality," says Hasting. "We like to source locally made products whenever possible, but currently the barley that is bred, grown and malted in North America is mostly developed for cereal adjunct brewers like AB Inbev and SAB Miller Coors."
"This is still world class malt but we are looking for low protein, heritage varieties of barley that are bred, grown and malted for all malt, single step infusion mashes like most small craft brewers use. Unfortunately, to source these malts we must import malt from England, Ireland and Germany."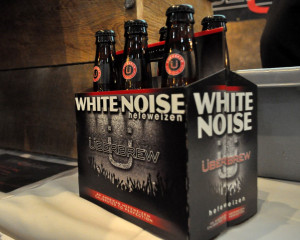 Überbrew recently began contracting with the Fort Collins Brewery in Colorado to brew and bottle its most popular brands, including White Noise Hefeweizen which took second place for the style at the 2014 World Beer Cup. It is a choice some might argue doesn't fit within the "local" ethic.
Hastings notes the choice was partly made out of necessity to achieve growth, but also brought tangible benefits to the Billings taproom and production facility. "We simply do not have the millions of dollars required to build a facility like we have access to in Fort Collins. We went through an extensive vetting process of breweries. In the end The Fort Collins Brewery won out for many reasons including the quality of the operation and their willingness to let us participate in every aspect of the brewing process. We owe a great deal of our success to the mentorship we receive from the team at The Fort Collins Brewery."
Hastings isn't concerned that some contract brewing might reduce the local nature of Uberbrew's beer. "We are a Billings, Montana born brewery that is expanding," says Hastings. "As we expand we hope to create a regional business that is a positive presence in several Montana, Wyoming and Colorado communities. We strive to attain this growth while maintaining our quest to bring our customers a superlative pint experience anywhere Überbrew beer is served."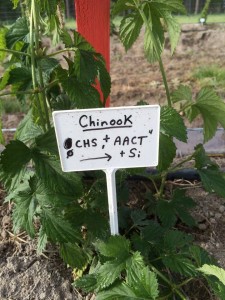 Tom Britz did not set out to grow hops, but the Flathead Valley rancher now finds himself at the forefront of small-scale hop growing research in Montana. A chance conversation with local Extension Agent Pat McGlynn kicked off the idea and Britz's Glacier Hops Ranch will grow more than 45 varieties for testing this year.
"This year will be the third year of our research plot and we're finding varieties that are vigorous and also varieties that don't do well in Montana, like the Southern Hemisphere varieties, which all winter-killed here," explains Britz. "By contrast, we're seeing solid and vigorous growth from almost all of the US aroma varieties, and some European varieties."
Britz was elected this spring to the Hop Growers of America board of directors and will chair its new Small Grower Council. He is well versed in the challenges facing small growers, but sees an opportunity to create a niche through different processing methods.
"We looked at several alternative drying options to improve the aromatics, and began collaborating with a producer in Michigan who developed a low heat/no heat method, says Britz. "He brought some of his samples from last year's harvest to us this winter and said 'this is exactly what yours will be like.'"
"We sent these samples out to about a dozen of our in-state brewers and the feedback we got was black and white, extremely positive. The difference showed up in the beer. So we are betting on this low-heat/no-heat drying method that has been proven to retain more of the aromatic oils. "
While this "artisan-crafted" drying method takes longer and is more expensive, Britz believes the better quality product will help set small growers like Glacier Hops Ranch apart.
Helping beer become more local is also at the top of Britz's work. "Glacier Hops Ranch, like many small acreage growers that have popped up from coast to coast over the last several years, has a completely different business model compared to the large-scale growers in the legacy production states of Washington, Oregon and Idaho," says Britz. "We do not have economies of scale and we do not benefit from multi-generational institutional knowledge. However, we do offer a 'locally-grown ingredient' option which I have found to hit a raw nerve – the same raw nerve that has allowed craft breweries to proliferate in recent years."
And that's a proliferation we can all embrace in our quest to "drink local."
~ Follow Growler Fills on Twitter and Facebook ~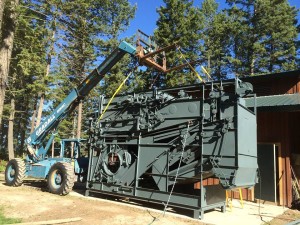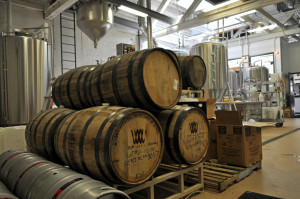 Posted On May 28th, 2015
Attention Western Montana Breweries! The First Annual Lochsa River Brewers Bash is approaching! Get your crew together and represent your brewery on this awesome trip. Call Lewis & Clark Trail Adventuresat 728-7609 and sign up today!
Posted On May 4th, 2015
Re-posted from the Bozeman Daily Chronicle, May 3, 2015
Just as the spring sun is starting to warm the faces of winterized Bozemanites, a spring brewing festival is coming to Bozeman to spread the taste of more than 85 Montana-made craft beers.
The Montana Brewers Association has organized a spring brew festival for this Thursday at the Gallatin County Fairgrounds, the first that the group has held in Bozeman since 2011, said Tony Herbert, executive director for the group.
As of Friday, 25 breweries from across the state were confirmed to take part, bringing 86 different beers for Bozemanites' sipping pleasure, while vendors sell food and local musicians entertain.
"When you come to our brew-fest, you get a chance to try some beers that may not be in your market and may never be in your market," Herbert said. Brewers from as far afield as Libby, Kalispell, Sidney and Havre will be among those showcased at the festival.
Thursday's 4 to 10 p.m. event — the first hour is VIP-only — is the 10th brew-fest the Montana Brewers Association has held since the group's inception in 2009, and they were held in Bozeman the first three years, Herbert said.
Herbert said he's excited to return to Bozeman, home of many "good craft beer fans," but the event is bittersweet, as it will be his last public event at the helm of the Brewers Association.
The group is currently taking applications for a new director, and Herbert will help with the transition before stepping down July 1, he said.
"Being the director of the craft brewers (association) has been a really awesome opportunity," Herbert said. "It's such a cool and new business going on across the state."
After he relinquishes the reigns, Herbert plans to go camping with his family and relax more.
"I'm going to be moving on to recreate more and work less," he said.
Thursday's brew-fest will be held in Haynes Pavilion at the Gallatin County Fairgrounds. General admission tickets are $20 in advance and $25 at the gate, and VIP tickets are $30 advance and $35 at the gate. A paid ticket gets admission and a 9-ounce glass good for 4-ounce samples of any beers. There's no set limit to the number of samples, but Herbert encourages people to drink responsibly.
Admission is restricted to ages 21 and over. More information is available at www.montanabrewers.org.
Posted On March 18th, 2015
Re-post from Brewers Association, March 16th, 2015
Brewers Association Reports Annual Growth Figures for Small and Independent Brewers
Boulder, CO • March 16, 2015—The Brewers Association (BA), the trade association representing small and independent American craft brewers, today released 2014 data on U.S. craft brewing¹ growth. For the first-time ever, craft brewers reached double-digit (11 percent) volume share of the marketplace.
In 2014, craft brewers produced 22.2 million barrels, and saw an 18 percent rise in volume² and a 22 percent increase in retail dollar value³.  Retail dollar value was estimated at $19.6 billion representing 19.3 percent market share.
"With the total beer market up only 0.5 percent in 2014, craft brewers are key in keeping the overall industry innovative and growing. This steady growth shows that craft brewing is part of a profound shift in American beer culture—a shift that will help craft brewers achieve their ambitious goal of 20 percent market share by 2020," said Bart Watson, chief economist, Brewers Association. "Small and independent brewers are deepening their connection to local beer lovers while continuing to create excitement and attract even more appreciators."
Additionally, the number of operating breweries in the U.S. in 2014 grew 19 percent, totaling 3,464 breweries, with 3,418 considered craft broken down as follows: 1,871 microbreweries, 1,412 brewpubs and 135 regional craft breweries. Throughout the year, there were 615 new brewery openings and only 46 closings.
Combined with already existing and established breweries and brewpubs, craft brewers provided 115,469 jobs, an increase of almost 5,000 from the previous year.
"These small businesses are one of the bright spots in both our economy and culture. Craft brewers are serving their local communities, brewing up jobs and boosting tourism," added Watson. "Craft brewers are creating high quality, differentiated beers; new brewers that match this standard will be welcomed in the market with open arms."
Note: Numbers are preliminary. The Brewers Association will release the list of Top 50 craft brewing companies and overall brewing companies by volume sales on March 31. Additionally, a more extensive analysis will be released during the Craft Brewers Conference & BrewExpo America® in Portland, Oregon from April 14-17. The full 2014 industry analysis will be published in the May/June 2015 issue of The New Brewer, highlighting regional trends and production by individual breweries.
1 An American craft brewer is small, independent and traditional. Small: Annual production of 6 million barrels of beer or less (approximately 3 percent of U.S. annual sales). Beer production is attributed to the rules of alternating proprietorships. Independent: Less than 25 percent of the craft brewery is owned or controlled (or equivalent economic interest) by an alcoholic beverage industry member that is not itself a craft brewer. Traditional: A brewer that has a majority of its total beverage alcohol volume in beers whose flavor derives from traditional or innovative brewing ingredients and their fermentation. Flavored malt beverages (FMBs) are not considered beers.
2 Volume by craft brewers represent total taxable production.
3 Figure derived from comparable data set based on 2014 update of craft brewer definition.
Contact: Abby Berman (on behalf of the Brewers Association), (646) 695-7044
Posted On March 17th, 2015
Sponsorships for 2015 Montana Brewer Festivals; featuring only beer that's made in Montana.
The MBA works with sponsorship partners to host events around the state to promote and support the craft beer movement in Montana. Please be in touch with us if you'd like to add your brand's name to the line-up of companies that help us pull off great parties and support this Made in Montana economy-building industry. Scroll down to find information about the event you would like to sponsor.
Posted On March 17th, 2015

Click on an event for more information:
Thursday, May 7th, Haynes Pavillion
Saturday, August 15th, Memorial Park
Friday, October 16th, Caras Park
Posted On February 12th, 2015
Re-posted from the Bozeman Daily Chronicle,  February 11, 2015.
Bills would have raised production cap, allowed brewers to hold liquor licenses
HELENA — Two bills aimed at loosening regulations around craft brewing in Montana failed narrowly in the House Business and Labor Committee on Wednesday.
House Bill 326 would have allowed brewers to hold liquor licenses in addition to their brewing license — often called license stacking — and would have lifted the cap for production with a tasting room from 10,000 barrels to 60,000 barrels annually.
House Bill 336 would have raised the production capacity without the license stacking option. HB 326 was the product of two years of work by an industry coalition that included the Montana Brewers Association and the Montana Tavern Association, two groups not known for getting along.
"It's unfortunate that the good effort between the vast majority of brewers and the Tavern Association is able to be killed by a small minority," said John Iverson, lobbyist for the Tavern Association, just after the vote.
The Montana Beer and Wine Distributors Association pulled out of the coalition in December because of the license stacking option in the bill. Instead, the group got behind HB 336 as an alternative to the Brewers Association-backed license stacking bill, forming another coalition and arguing that the measure would force brewers into the state's quota liquor license system. Both bills failed by a vote of 9-10 in the committee.
From Twitter:
Speaking in support of HB 326 before the vote, Rep. Chris Pope, D-Bozeman, said he hoped he didn't regret supporting the measure but thought it was a compromise.
"I'm voting for 326 because I think it does less harm," Pope said. "I believe there are folks who are going to be not happy with whatever we come up with here."
The committee did not discuss HB 336 before the vote.
Several members of the committee expressed concern that neither bill had enough support from all the industry players, as several brewers had been outspoken against the license stacking bill alongside the Distributors Association. Some lawmakers proposed studying the issue for a better solution.
"We have been presented with the good faith efforts of the industry to find some compromise here," said Rep. Chuck Hunter, D-Helena. "But I feel compromise has not really been reached."
The bills were tabled after the failed vote, leaving them essentially dead, though a motion to reconsider could revive them.
Posted On February 7th, 2015
The House Business and Labor Committee met on Friday and took up brewery bills. HB326 by Rep. Pat Noonan is the bill endorsed by the Montana Brewers Association and will provide the brewing industry with new choices that they have never had before. Brewers can operate as they currently do, grow above the current 10,000 barrel limit, and co-locate retail licenses at their breweries, if they choose.
This bill is preferable to HB336 (the beer fairness act) which only lifts the 10,000 barrel limit, was not an agreed to approach though the coalition of industry members (including the MBA), and adds other unneeded technical provisions by distributors. It is disingenuous on the part of distributors for them to now, suddenly, become supporters of lifting this limit, when they have long objected to our desire for change here, including in the coalition meetings. Distributors want no change whatsoever!.  This is because so long as brewers and retailers are fighting one another, distributors are standing in tall cotton. And the brewers and the consuming public loses.
HB326 is the Best Solution for Brewers because:
It is the compromise solution hammered out by industry members during the past 18 months to give brewers choices in order to grow their businesses.
It maintains the current operating factors for brewers to operate and grow under current law, and for new brewers to enter the market. Breweries can continue to operate just as they are, if they choose.  Retailers are done fighting us over our tap rooms.
It will lift the current 10,000 barrel cap in sample rooms to 60,000 barrels, clearing a major hurdle for brewers growing above this level. It provides that brewers growing over 10,000 barrels maintain modest tap rooms, with sales up to 500 barrels.
It allows brewers to own retail licenses, and retailers to own breweries, but limits the ownership to 3 retail licenses (one must be co-located at a brewery). Therefore, large chains may not set up vertical monopolies, and any current owner of more than 3 retail licenses may not co-locate a brewery.
It will not collapse the 3-Tier System. Most states in the country allow brewers to own retail licenses and the 3-Tier System is alive and well in those states.
97% of all beer sold in the state is carried by Montana distributors and 3% is sold directly by Montana brewers, and this bill will not change these facts. Brewers will continue to rely upon the distribution channels to move our beer.
HB326 will give brewers choices for them to grow their retail abilities, expand production, and increase investments in people and facilities in our cities and towns at our main street brewery businesses.
We do not need more time to study this issue. We need the Legislature to act now to help brewers grow their businesses.  Write the committee members of the House Business and Labor Committee and ask them to Act Now and Support HB326 and help the brewing industry grow in our state. To contact the  committee members using the state's system, click here.  Or, here is list of the committee members with their emails if you would rather send an email directly.
Thank you for supporting Montana Craft Beer!  Cheers to all Montana Brewers!
Member/
Assignment:
Tom Berry  (R) HD 40              tom@tomberrymt.com
Chair – Roundup
Ryan Lynch  (D) HD 76            Rep.Ryan.Lynch@mt.gov
Vice Chair – Butte
Daniel R Salomon  (R) HD 93   dansalomon12@gmail.com
Vice Chair – Ronan
Christy Clark  (R) HD 17          christy_clark@ymail.com
Member- Choteau
Willis Curdy  (D) HD 98            Rep.Willis.Curdy@mt.gov
Member – Missoula
Steve Fitzpatrick  (R) HD 20      Rep.Steve.Fitzpatrick@mt.gov
Member – Great Falls
Chuck Hunter  (D) HD 83          Rep.Chuck.Hunter@mt.gov
Member – Helena
George G Kipp  (D) HD 15         Rep.George.Kipp@mt.gov
Member – Heart Butte
Mike Lang  (R) HD 33               Rep.Mike.Lang@mt.gov
Member – Malta
David (Doc) Moore  (R) HD 92    Rep.David.Moore@mt.gov
Member -Missoula
Mark Noland  (R) HD 10            marknolandhd10@gmail.com
Member – Bigfork
Andrea Olsen  (D) HD 100         Rep.Andrea.Olsen@mt.gov
Member – Missoula
Gordon Pierson  (D) HD 78        Rep.Gordon.Pierson@mt.gov
Member – Deerlodge
Christopher Pope  (D) HD 65      Rep.Christopher.Pope@mt.gov
Member – Bozeman
Vince Ricci  (R) HD 55               Rep.Vince.Ricci@mt.gov
Member – Laurel
Tom Richmond  (R) HD 56          tomrichmondmt@gmail.com
Member – Billings
Scott Staffanson  (R) HD 35       scottstaffanson@gmail.com
Member – Sidney
Tom Steenberg  (D) HD 99         mtsteenberg@bresnan.net
Member – Missoula
Jeffrey W Welborn  (R) HD 72     jeffwelborn@hotmail.com
Member – Dillon